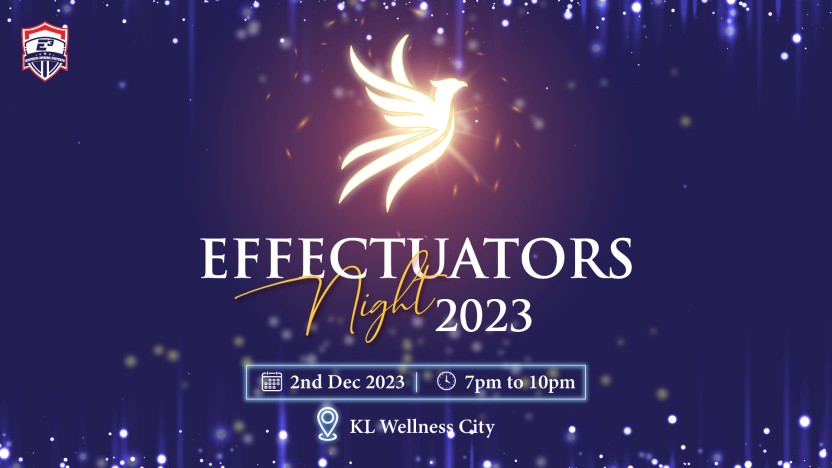 KL Wellness City
Social & Nightlife
E3 Effectuators Night 2023
Date & Time
02 Dec 2023
7:00 PM - 10:30 PM
Singapore Time (GMT +8.00)
Venue Location
KL Wellness City
KL Wellness City Gallery, Jalan Bukit Jalil Indah 2, Bukit Jalil, Kuala Lumpur, Federal Territory of Kuala Lumpur, Malaysia
Limited promotion tickets available now for only RM118
🎉✨ Join Us for a Night of Triumph and Togetherness: The 2023 Effectuators Night! ✨🎉
We are thrilled to invite you to our inaugural annual dinner, The 2023 Effectuators Night, taking place on December 2nd, 2023, starting at 7 PM at the enchanting KL Wellness City. This night is not just an event; it's a celebration of resilience, growth, and the unwavering spirit of entrepreneurship.
🌟 Why Attend?
At The Effectuators Night, we're not just celebrating entrepreneurs; we're honoring pioneers, dreamers, and doers who have faced challenges head-on and emerged stronger, much like a phoenix rising from its ashes. It's an evening where we express our deepest gratitude to every entrepreneur who has been a part of our journey.
🎊 What to Expect:
Inspirational Stories: Hear remarkable tales of triumph over adversity from fellow entrepreneurs.
Networking Galore: Connect with a diverse array of entrepreneurs, partners, academics, and experts.
Gratitude & Appreciation: Experience a heartfelt atmosphere where your contributions are acknowledged and celebrated.
Entrepreneurial Camaraderie: Engage with like-minded individuals and forge valuable connections.
🚀 Our Commitment:
The 2023 Effectuators Night is more than an event; it's a testament to the collective strength of the entrepreneurial community. With your support, this evening promises to be a beacon of inspiration, fostering collaboration and growth within our ecosystem. Together, we'll propel each other to even greater heights.
Book your tickets now and join us for an evening of joy, gratitude, and the celebration of entrepreneurial spirit. Let's continue this incredible journey together, making strides towards a future of endless possibilities.
See you there! 🌟🌱
#E3EffectuatorsNight #EntrepreneurshipCelebration 🎊🎈
To start networking with the participant, kindly purchase the ticket.
Event Organizer: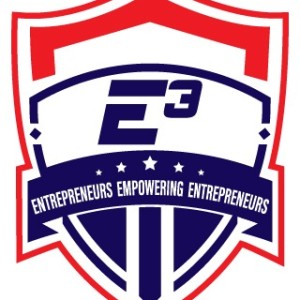 E3Capital is a diversified holding company of the E3 Group of Companies. Our primary business is entrepreneurship development, business incubation and digital entrepreneur platform.
Get Tickets
E3 Effectuators Night 2023